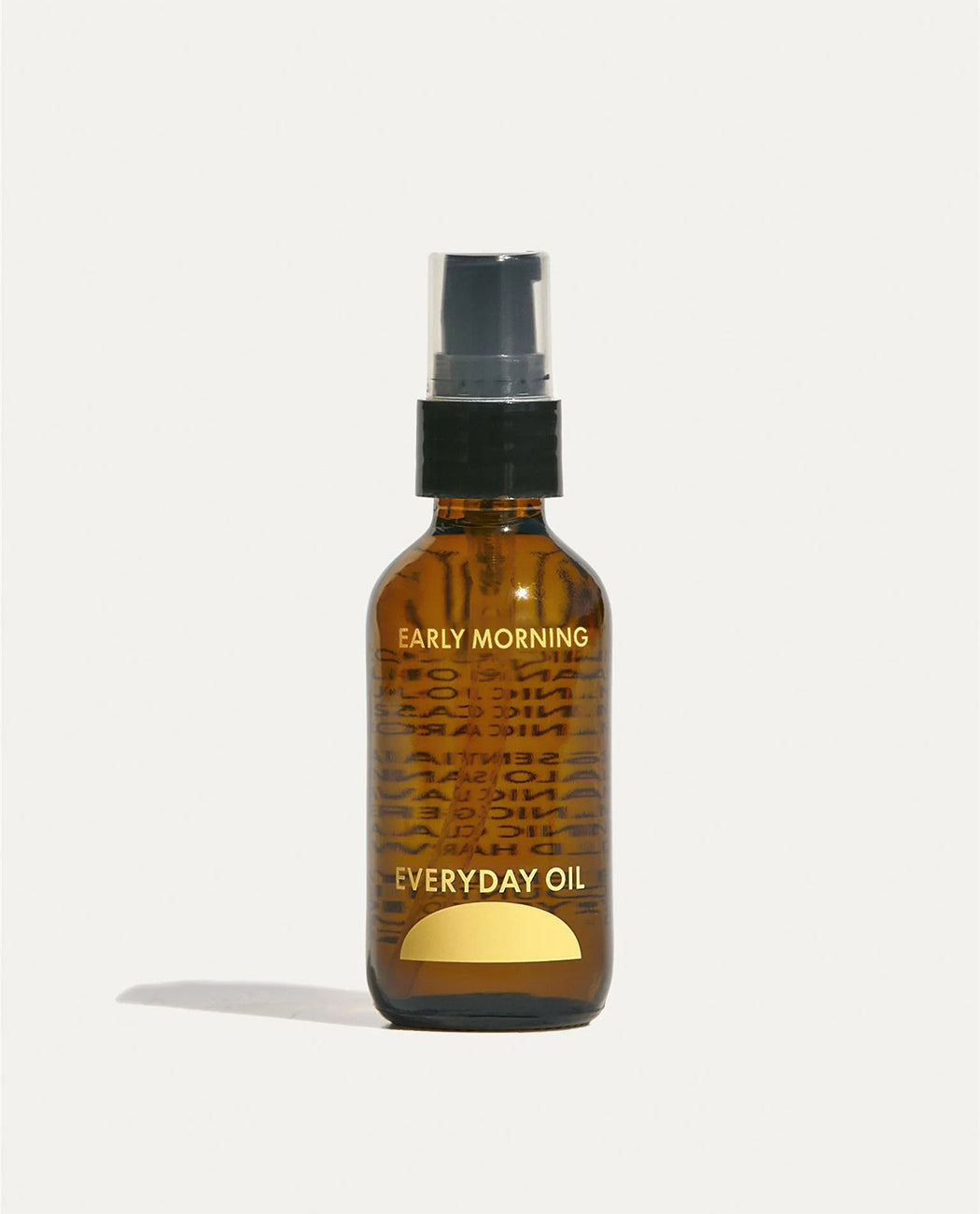 Everyday Oil: Early Morning
The latest addition to the Everyday Oil family! 
Early Morning : A dreamy calming scent that captures the feeling of a quiet morning, heavy with fog, just before the sun rises. The essence of stillness. Early Morning is a very subtle scent, just a whisper.
Ingredients:
organic coconut - hydrating but is also cleansing and has anti-viral, anti-bacterial and anti-fungal properties.
organic olive oil - antioxidants, which helps protect the skin from premature skin aging.
organic argan oil - eases inflammation while moisturizing the skin.
organic jojoba oil - reduce and prevent acne as well as UV-induced hyper-pigmentation.
organic castor oil - natural antibacterial and antifungal properties and is high in Vitamin E, Minerals, Proteins, and Omega 6 and 9 beneficial fatty acids. Ricinoleic acid content helps increase circulation to the skin.  
With Early Morning essentials oils of lavender, sandal wood, vetiver, patchouli and peppermint
How to use:
skin care for face & body
facewash
make-up remover
deep conditioner
beard oil
cuticle oil
natural insect repellent
after-sun
after-shave
bath soak
massage oil
to help prevent stretch marks
nursing salve
Summary:
2 OZ bottle contains 59 ml
Everyday Oil is 100% plant-based, 100% natural
Perfect for a minimalist lifestyle, as you can use the oil for everything. 
Made in North Carolina.
Everyday Oil is Third-Party Certified Organic, Microbiome-Friendly, Cruelty-Free and Non-Comedogenic.


Everyday Oil will be shipped from The Netherlands (Nederland), Europe.